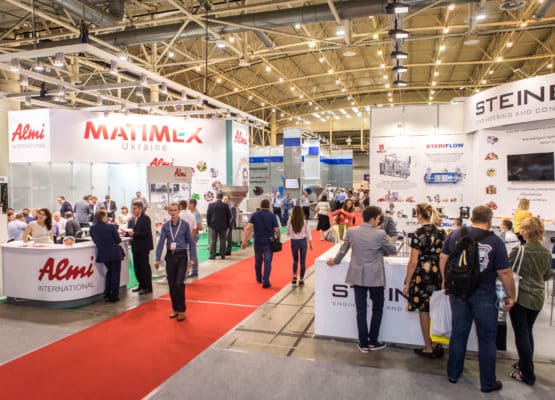 | | |
| --- | --- |
| Event: | 28 International Exhibition of Equipment and Technologies for the Food and Processing Industry INPRODMASH |
| Dates: | September 10 – September 12, 2019 |
| Organizer: | ACCO International Company |
| Supported by: | Ministry of Agrarian Policy and Food of Ukraine; UKRHLIBPROM association of baking industry enterprises; Ukrkondprom association of confectionery manufacturers; UKRMOLPROM national association of milk manufacturers; UKRMYASO national association of meat and meat product manufacturers |
     Food industry is the focus area for the entire agricultural sector. It creates additional value, thus enriching the country. Under current conditions, it is not enough just to produce raw materials; our task is to orient the economy towards domestic food production. Our priorities include not only the European quality standards but also the European lifestyle with such values as healthy and balanced nutrition, organic production and support of local food production traditions.
     Further growth of food industry and competitiveness of domestic food products inherently involve upgrade of equipment and introduction of the latest technologies being the result of innovative research of scientist and scientific teams.
     INPRODMASH & UPAKOVKA trade fairs are a unique platform demonstrating the best scientific achievements of global leaders in the fields of equipment, technologies and materials (including packaging ones) for food processing industry. This is a perfect opportunity for communication of leading experts from all around the world, search for new partners and establishment of new business contacts to transfer innovations.
     Equipment, inventory and materials for various food industry sectors (meat processing, dairy, oil-and-fat, fish, bakery and confectionery, grocery, canning, etc.) as well as for cattle and poultry farms will be showcased at INPRODMASH. There also will be suppliers of materials and ingredients (including functional and flavor additives) for food manufacturing. Modern packaging equipment, technologies and materials for both large and small production companies as well as filling and packaging lines for retail and catering companies will be exhibited at UPAKOVKA.
     Both new and reconditioned, process and auxiliary equipment, components and services will be offered. Visitors will have the opportunity to study the existing market offers of equipment and technologies, effective industrial standards.      
     Technologies and equipment for milling, baking and confectionery industry will be showcased at BAKERY Ukraine. Confectionery products and ingredients will be exhibited at SWEETS Ukraine.
     Business program will include the following events:
Sweet Triumph, Professional Tasting Competition of Confectionery Products
Packaging Triumph, Competition of Confectionery Packaging
Tasting Competition of Breads and Pastries.
     The Ukrainian Food Technology Week is annually attended by over 7,000 professionals employed in various food industry sectors and agricultural sector. The most of them attend the trade fairs regularly to keep abreast of technological novelties and meet their partners. Thus, the Ukrainian Food Technology Week is a unique interaction platform for manufacturers, suppliers and customers from all food industry sectors.